The ORIGINAL 9" Retro Jelly Purse by Fashion Jellies, Pearl Pink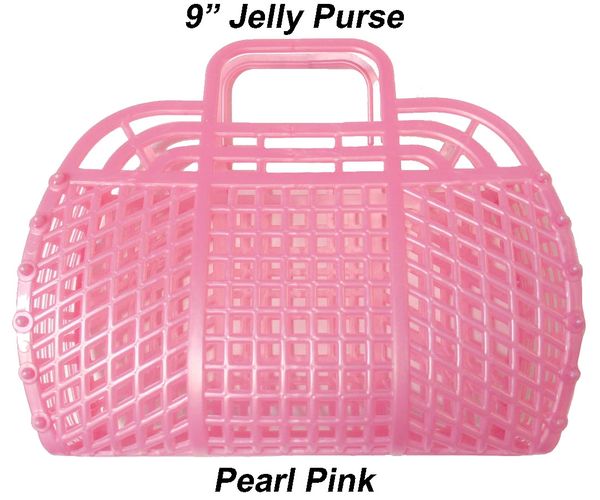 The ORIGINAL 9" Retro Jelly Purse by Fashion Jellies, Pearl Pink
The Original Jelly Purse
I

t all started in 1983 when Pride Plastics

in Buena Park, California, the original

jelly purse manufacturer, began

producing the larger 17" jelly purse handbag 

or tote. 

Immediately following its release,

came 3 

other sizes: 13", 9" and 6".
From the original prints and designs of Pride,
Fashion Jellies, the jelly purse manufacturer 
based in
 Gardena, California, is offering
these 
vintage purses again.
With basic fashion colors, snap together features,
and 
nearly indestructible materials, these designer
purses 
can be used as 
Easter baskets, Halloween
candy 
collectors, 
party favors, and everyday school
purses. 
And Made in the USA.
For toddlers, tweens, teens and misses.
A size and color for everyone. This is the
9" size diagonal (clutch size). See the
actual dimensions on the picture.
Freight prepaid in the continental US.
For larger quantities or different colors, email
310-515-2237 (Fashion Jellies factory). 
Minimum quantities may apply.
Reviews